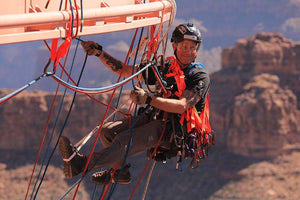 ISC's Rich Hattier - Single Rope Work Positioning Class
Friday, October 05 2018, 8:00 AM - 5:00 PM [EST]

 Rich ,the International Safety Components (ISC) North American Sales Manager, has more than 25 years invested in Arboriculture as a production climber, commercial tree service business owner, and safety trainer.  In 2006 Rich shifted gears away from production tree climbing to the design, manufacture, and distribution of Arborist Climbing Equipment.  In 2014 Rich signed on with ISC Wales to operate as their North American Sales Manager responsible for all height disciplines.  Rich became an ISA Certified Arborist in 1993, an ISA Certified Climber Specialist in 2000, and currently holds Certifications as a SPRAT Level 1 Technician, Competent Tower Climber and Rescuer, Confined Space Rescue Technician, Trauma at Height Technician, Global Wind Power Technician, and Technical Vertical Rescue L3 (Brazil).
 Class Outline:

   Planning the tree and initial set up

     Identify tree
     Pick high central branch union for TIP
     Throwball use to set line
     Advancing the climbing line
     Use of cambium saver or pulley
DdRT Ascent

     Hip Thrust
     Footlock
     Single Rope (Ascent Only)
DdRT Work Positioning

     Working with hitch
     2:1 Return on efforts
     Angles to TIP
     Redirects
     Dynamic Forces
Introduction to SRWP

     Example of why you may want to consider learning and using SRWP
     3 issues that you will need to get used to with SRWP

Setting up to climb with SRWP

     Basal Anchors
     TIP Anchors
     Planning and Working the Tree
     Rescue

The following CEU's Have been added to the class.

Speaker(s): Rich Hattier
Certified Arborist: 8
Utility Specialist: 8
Municipal Specialist: 8
BCMA - Science: 0
BCMA - Practice: 8
BCMA - Management: 0
TW Climber Specialist: 8
TW Aerial Lift Specialist: 8
Registration Starts at 7:30 AM
Tickets are $40.00 online / $50.00 at the door

Lunch will be Provided
Class will be held rain or shine

Limited seating is available get your tickets now
---