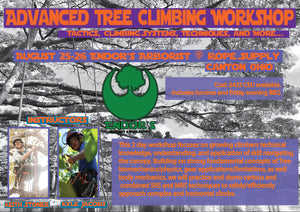 Advanced SRT Climbing Workshop
Advanced Tree Climbing Tactics and Techniques
Instructors Keith Stoner and Kyle Jacobs
OVERVIEW
This 2 day workshop focuses on growing climbers technical knowledge, understanding,
and application of skill in traversing the canopy. Building on strong fundamental
concepts of Tree biomechanics, gear applications/limitations, as well body mechanics,
we will look at various and combined SRS and MRS techniques to safely/efficiently
approach complex and horizontal climbs.
GOALS
1. Safety is our highest goal. There is inherent risk in learning new techniques, every
section will start with demos and ground practice before moving low and slow
under instructor supervision.
2. Increasing and refreshing foundational knowledge how trees, gear, and different
climbing systems interact.
3. Dialing in systems for different climbs, purposes, and tactics
4. Practice proficiency in system set up, Climbing/use, and retrievals.
Click on link to sign up for class or cut and paste into your browser
https://admin.shopify.com/store/endors-arborist-rope-supply-llc/products/8705892712751
---